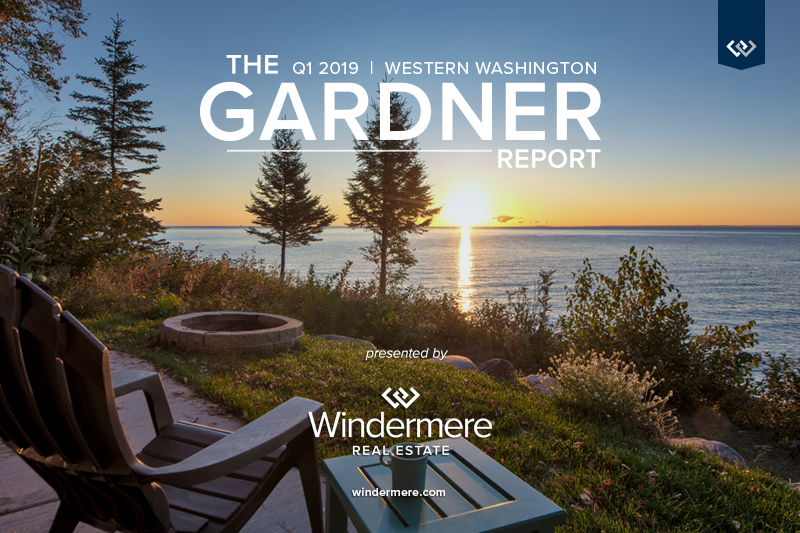 We are pleased to present the first-quarter 2019 edition of the Gardner Report, which provides insights into select counties of the Western Washington housing market. This analysis is provided by Windermere Real Estate Chief Economist Matthew Gardner. We hope that this information will assist you with making better-informed real estate decisions. For further information about the housing market in your area, please don't hesitate to contact us.
View the full report on the Windermere Blog
---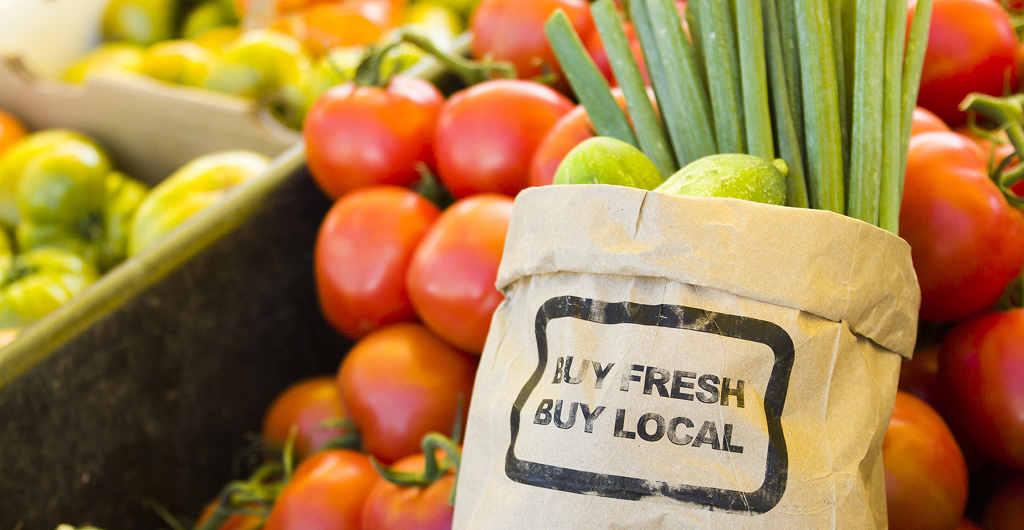 When you shop at a local Farmers Market, you're buying outstanding freshness, quality and flavor. Knowing exactly where your food comes from and how it was grown provides peace of mind for your family. Plus, you're supporting a sustainable regional food system that helps small family farms stay in business; protects land from development, and provides the community with fresh, healthy food. Find one near you!
---

We are collecting vegetable seeds and starts for the Martha Perry Garden, where volunteers grow thousands of pounds of fresh produce every year for local food banks.
My office will be spending a volunteer day in the garden for our annual Community Service Day in June. In addition to our labor, we will gift them all of the vegetable seeds and starts collected between now and then.
All seeds should be no more than a year old, although fresh seeds are preferred.
Wish List:
Basil, Beets, Cabbage, Carrots*, Cauliflower, Chard, Cucumbers, Green Beans, Herbs, Marigolds, Peppers, Radishes, Summer Squash, Snow Peas, Tomatoes, Winter Squash, Zucchini
*High Demand!
Starts of cucumbers, winter & summer squash, cole crops (cabbage, cauliflower, broccoli, kale, etc) are especially welcome
Thank you!
---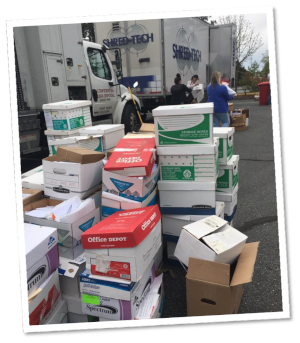 Thank you for another successful Shred Day!
Two full truckloads of paper were safely shredded and recycled.
We love providing this service for our clients, friends and neighbors, but what we're really excited about is how you all gave back to the community. Your donations provided 534 pounds of food and $1,129 to benefit Concern for Neighbors food bank. Thank you!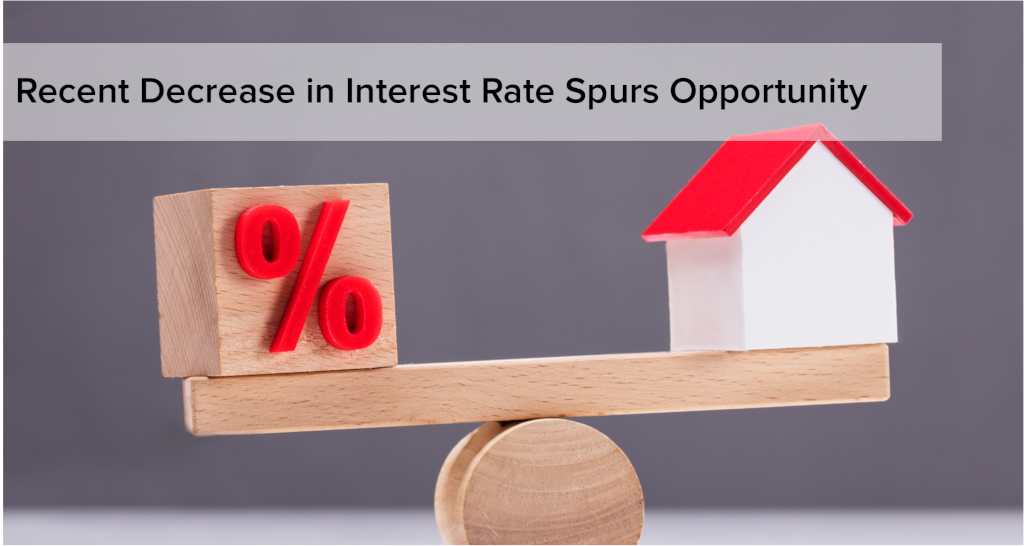 Most recently, we have experienced an uptick in market activity. In fact, in King and Snohomish counties we saw a 53% increase in pending sales from December to January. While it is seasonally normal to see activity increase at the first of the year, it was 16% higher than the previous January. This increase is being driven by multiple factors, such as our thriving economy and job market, price acceleration softening, and the recent decrease in interest rates.
Currently, rates are as low as 4.5% for a 30-year fixed conventional mortgage – 0.75 points down from the fourth quarter of 2018. In fact, the interest rate in November was the highest we've seen in five years!  The current rate level is the lowest we have seen in a year. This is meaningful because the rule of thumb is that for every one-point increase in interest rate, a buyer loses ten percent in purchase power. For example, if a buyer is shopping for a $500,000 home and the rate increases by a point during their search, in order to keep the same monthly payment, the buyer would need to decrease their purchase price to $450,000. Conversely, for every decrease in interest rate, a buyer can increase their purchase price and keep the same monthly mortgage payment.
Why is this important to pay attention to? Affordability! If you take the scenario I just described and apply it to the link above, you can see that the folks who choose to jump into the market this year will enjoy an interest cost savings when securing their mortgage. This lasts the entire life of the loan and can have a huge impact on the monthly cash flow of a household. This cost savings is also coupled with a slow-down in home-price appreciation. Complete year-over-year, prices are up around 8% in both King and Snohomish counties, but note that from 2017 to 2018 we saw a 14% increase. Price appreciation is adjusting to more normal levels and is predicted to increase 4-6% in 2019 over 2018.
As we head into spring market, the time of year we see the most inventory become available, the interest rates will have a positive influence on both buyers and sellers. Naturally, buyers will enjoy the cost savings, but sellers will enjoy a larger buyer pool looking at their homes due to the demand the lower rates are creating. Further, would-be sellers who are also buyers that secured a rate as low as 3.75% via a purchase or re-finance in 2015-2017, will consider giving up that lower rate for the right move-up house now that rates are not as big of a jump up as they were during the second half of 2018.
This recent decrease in rate is making the move-up market come alive. What is great about this, is that it opens up inventory for the first-time buyer and helps complete the market cycle. First-time buyers are abundant right now as the Millennial generation is gaining in age and making big life transitions such as buying real estate. According to Nerd Wallet, 49% of all Millennials have a home purchase in their 5-year plan.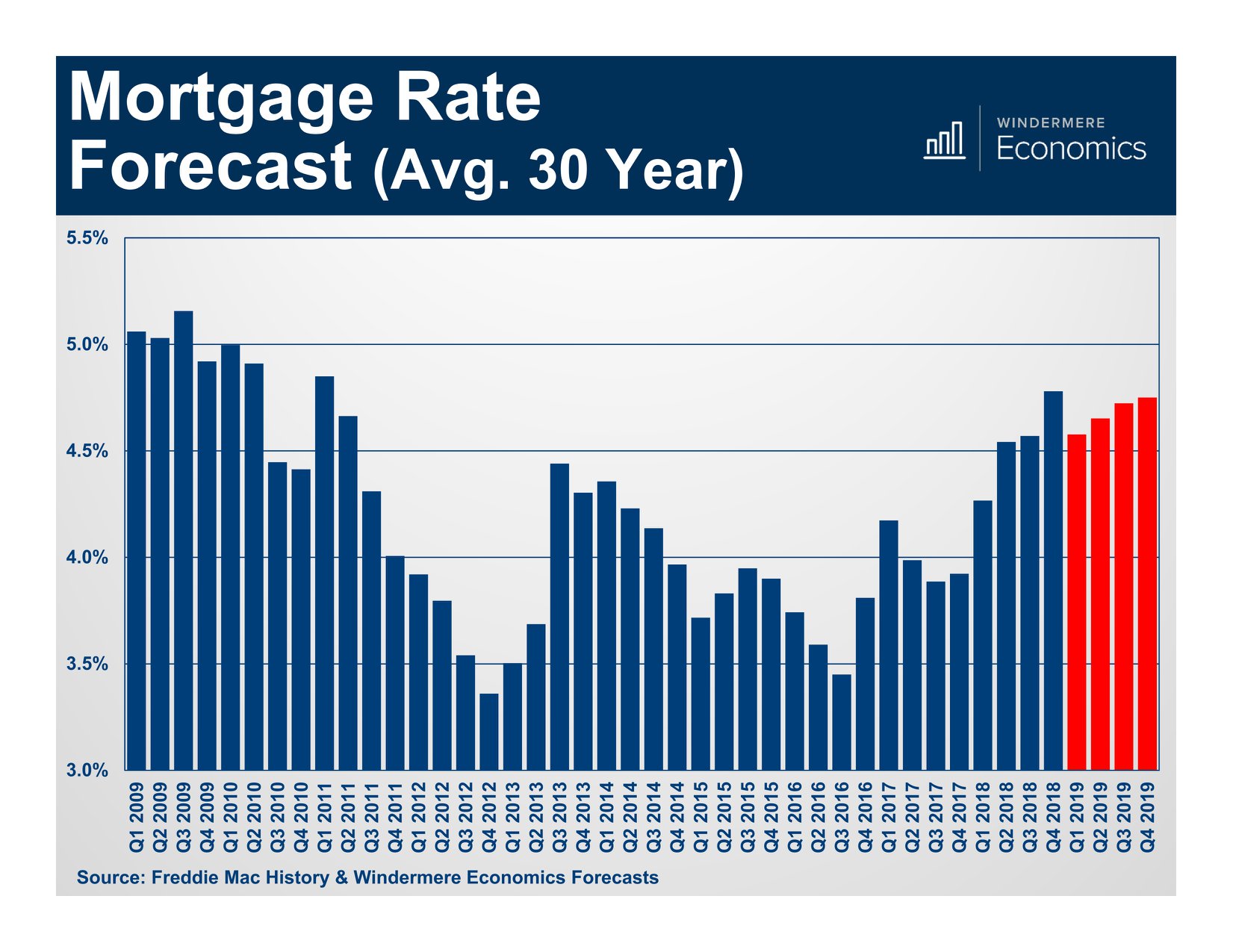 Will these rates last forever? Simply put, no! According to Matthew Gardner, Windermere's Chief Economist, rates should increase into the mid-to-high 4's in 2019. While still staying well below the 30-year average of 6.85%, increases are increases, and securing today's rate could be hugely beneficial from a cost-saving perspective. Just like the 1980's when folks were securing mortgages at 18%, the people that lock down on a rate from today will be telling these stories to their grandchildren. Note the 30-year average – it is reasonable to think that rates closer to that must be in our future at some point.
So what does this mean for you? If you have considered making a move, or even your first purchase, today's rates are a huge plus in helping make that transition more affordable. If you are a seller, bear in mind that today's interest rate market is creating strong buyer demand, providing a healthy buyer pool for your home. As a homeowner who has no intention to make a move, now might be the time to consider a refinance. What is so exciting about these refinances, is that it is not only possible to reduce your monthly payment, but also your term, depending on which rate you would be coming down from.
If you would like additional information on how today's interest rates pertain to your housing goals, please contact me. I would be happy to educate you on homes that are available, do a market analysis on your current home, and/or put you in touch with a reputable mortgage professional to help you crunch numbers. Real estate success is rooted in being accurately informed, and it is my goal to help empower you to make sound decisions for you and your family.
---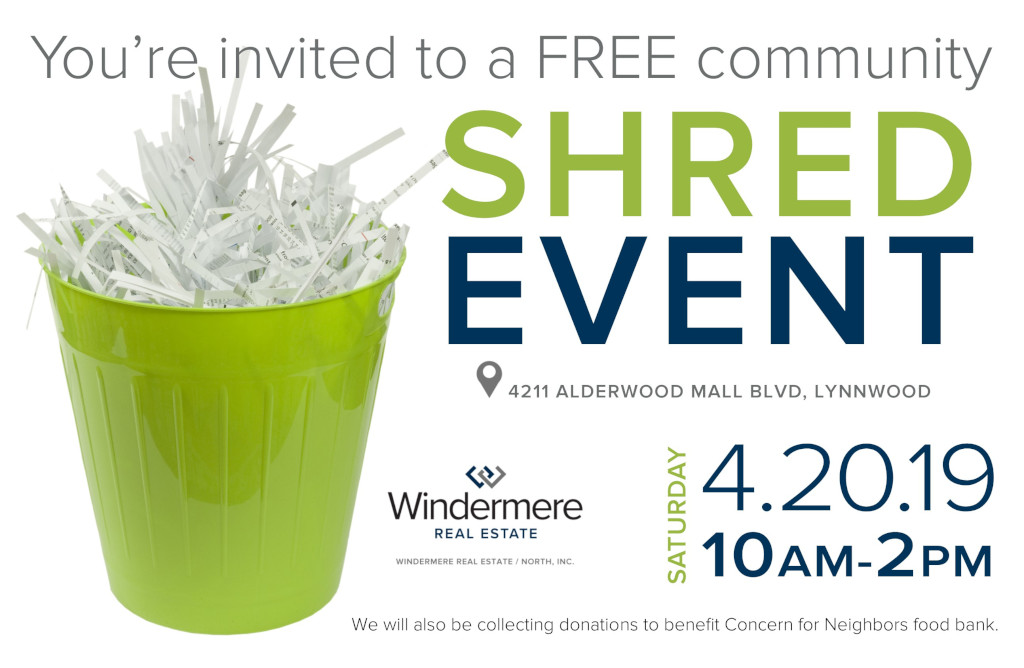 Celebrate Earth Day with us! Bring all your sensitive documents to be professionally destroyed on-site by Confidential Data Disposal. Limit 20 file boxes per customer.
We will also be collecting non-perishable food and cash donations to benefit Concern for Neighbors Food Bank. Donations are not required, but are appreciated.
Saturday, April 20th, 10am – 2pm.
4211 Alderwood Mall Blvd, Lynnwood 98036
*This is a shredding-only event. Only paper will be accepted – no electronics or recyclables.
Posted on February 25, 2019 at 10:18 PM
Windermere Real Estate North
|
Category:
Newsletter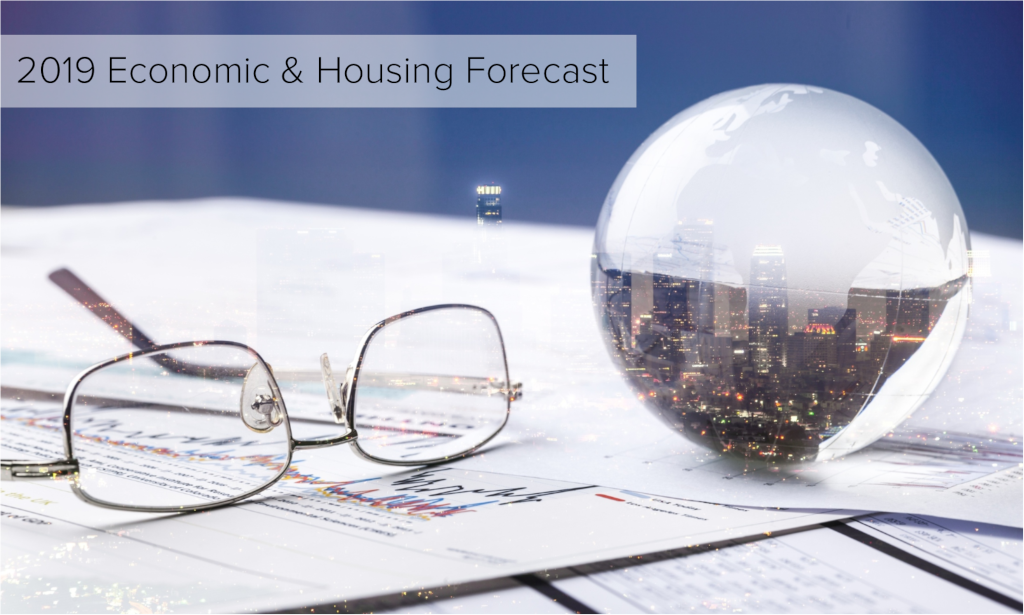 Happy 2019! As we head into the New Year, it's a great time to look ahead to what the real estate market has in store. Just last week, I had the pleasure of hosting an Economic Forecast Event with Windermere's Chief Economist, Matthew Gardner, and soaked up his knowledge and predictions. Below are his general predictions for the at-large real estate market across the nation. Please review and let me know if you have any questions.
Beyond the national forecast, at the event Matthew reported specifically on the Greater Seattle market, including both King and Snohomish counties. I received his Power Point presentation and I am happy to share his slides, should you request them.
A few take-a-ways to note are:
Seattle remains strong economically and our job market is thriving.
Interest rates are still historically low and will rise, but not beyond 6%.
It is still a seller's market in our area, but price escalations are softening, creating more balance and sustainability. We are NOT experiencing a bubble.
25% of homeowners in our region have 50% equity in their homes.
An economic recession is upon us in 2020. This one should be much like the 1991 recession; short and not based in housing.
Be careful how you process the media's take on the market as they often use extreme month-over-month numbers vs. richer long-term data.
Prices are expected to rise 5-7% in 2019, which is more normal, but above the long-term average, yet lower than the recent double-digit year-over-year gains we've seen since 2012.
It is always my goal to help empower my clients with information to help them make informed decisions regarding their real estate.  Let me know if you'd like that Power Point. I'm happy to share and help you dissect the information. Here's to a great 2019!
2019 Economic and Housing Forecast
Posted on Windermere.com in Market News by Matthew Gardner, Chief Economist, Windermere Real Estate
What a year it has been for both the U.S. economy and the national housing market. After several years of above-average economic and home price growth, 2018 marked the start of a slowdown in the residential real estate market. As the year comes to a close, it's time for me to dust off my crystal ball to see what we can expect in 2019.
The U.S. Economy
Despite the turbulence that the ongoing trade wars with China are causing, I still expect the U.S. economy to have one more year of relatively solid growth before we likely enter a recession in 2020. Yes, it's the dreaded "R" word, but before you panic, there are some things to bear in mind.
Firstly, any cyclical downturn will not be driven by housing.  Although it is almost impossible to predict exactly what will be the "straw that breaks the camel's back", I believe it will likely be caused by one of the following three things: an ongoing trade war, the Federal Reserve raising interest rates too quickly, or excessive corporate debt levels. That said, we still have another year of solid growth ahead of us, so I think it's more important to focus on 2019 for now.
The U.S. Housing Market
Existing Home Sales
This paper is being written well before the year-end numbers come out, but I expect 2018 home sales will be about 3.5% lower than the prior year. Sales started to slow last spring as we breached affordability limits and more homes came on the market.  In 2019, I anticipate that home sales will rebound modestly and rise by 1.9% to a little over 5.4 million units.
Existing Home Prices
We will likely end 2018 with a median home price of about $260,000 – up 5.4% from 2017.  In 2019 I expect prices to continue rising, but at a slower rate as we move toward a more balanced housing market. I'm forecasting the median home price to increase by 4.4% as rising mortgage rates continue to act as a headwind to home price growth.
New Home Sales
In a somewhat similar manner to existing home sales, new home sales started to slow in the spring of 2018, but the overall trend has been positive since 2011. I expect that to continue in 2019 with sales increasing by 6.9% to 695,000 units – the highest level seen since 2007.
That being said, the level of new construction remains well below the long-term average. Builders continue to struggle with land, labor, and material costs, and this is an issue that is not likely to be solved in 2019. Furthermore, these constraints are forcing developers to primarily build higher-priced homes, which does little to meet the substantial demand by first-time buyers.
Mortgage Rates
In last year's forecast, I suggested that 5% interest rates would be a 2019 story, not a 2018 story. This prediction has proven accurate with the average 30-year conforming rates measured at 4.87% in November, and highly unlikely to breach the 5% barrier before the end of the year.
In 2019, I expect interest rates to continue trending higher, but we may see periods of modest contraction or levelling.  We will likely end the year with the 30-year fixed rate at around 5.7%, which means that 6% interest rates are more apt to be a 2020 story.
I also believe that non-conforming (or jumbo) rates will remain remarkably competitive. Banks appear to be comfortable with the risk and ultimately, the return, that this product offers, so expect jumbo loan yields to track conforming loans quite closely.
Conclusions
There are still voices out there that seem to suggest the housing market is headed for calamity and that another housing bubble is forming, or in some cases, is already deflating.  In all the data that I review, I just don't see this happening. Credit quality for new mortgage holders remains very high and the median down payment (as a percentage of home price) is at its highest level since 2004.
That is not to say that there aren't several markets around the country that are overpriced, but just because a market is overvalued, does not mean that a bubble is in place. It simply means that forward price growth in these markets will be lower to allow income levels to rise sufficiently.
Finally, if there is a big story for 2019, I believe it will be the ongoing resurgence of first-time buyers. While these buyers face challenges regarding student debt and the ability to save for a down payment, they are definitely on the comeback and likely to purchase more homes next year than any other buyer demographic.
Originally published on Inman News.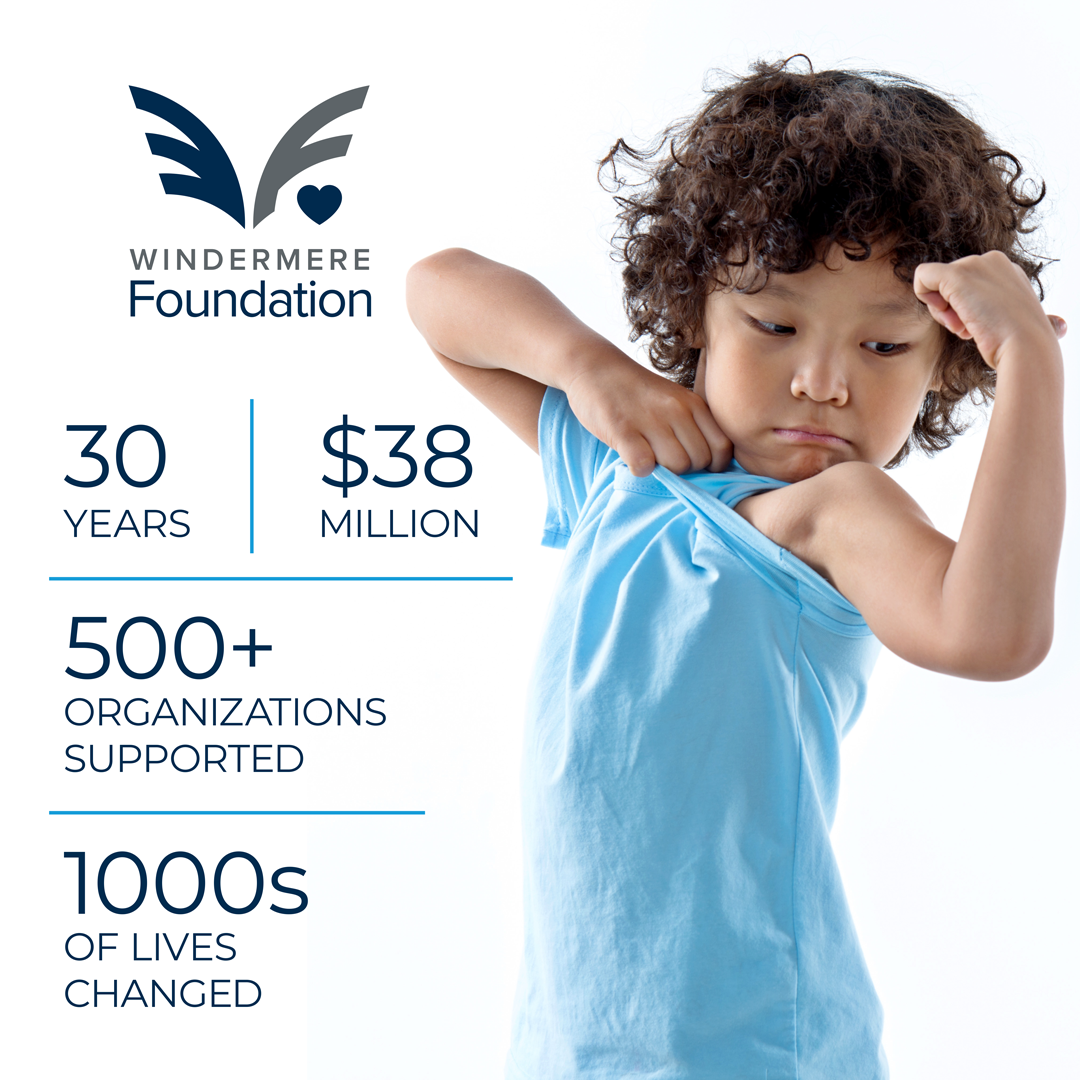 At Windermere we help people buy and sell homes, but we also help build community. I'm proud to support the Windermere Foundation with every home I help sell or buy. 2018 concluded with another great year of fundraising and giving for the Windermere Foundation, thanks to the continued support of agents, franchise owners, staff, and the community. Nearly $2.5 million was raised in 2018, bringing our grand total to over $38 million raised since the Foundation's inception in 1989! This money goes right back into our community, helping low-income and homeless families. Read the full blog post here.
Posted on January 28, 2019 at 6:40 PM
Windermere Real Estate North
|
Category:
Newsletter